we are
designers
developers
programmers
artists
photographers
illustrators
seo specialists
digital strategists
online ninjas ;-)
1 creative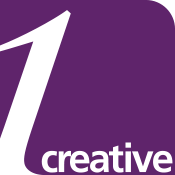 For the love of design
Having all worked together for more than a decade we know what does and more importantly, what doesn't work. Our talented and highly experienced team have many strengths: designers, programmers, photographers, and marketing specialists. We utilise these creative skills, working together to solve problems and achieve your business goals.
We pride ourselves in a fresh and forward-thinking approach.
Committed to creative thinking
1 Creative is not a huge anonymous company, we are a small multi-skilled hub of creative professionals. Our designers deal direct with you to ensure the message isn't lost, as happens only too often in larger agencies when the project is passed from account handler to studio manager to designer.
We are committed to what we do and are always willing to go that extra mile to meet your needs.
Skip navigation Home page Sitemap Contact us Top of the page Accessibility statement About us Design process Portfolio