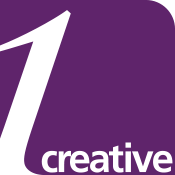 doing our bit
Corporate Social Responsibility
1 Creative are trying wherever we can to conduct our business in a more ethical and socially responsible manner. We are doing this in conjunction with our suppliers and clients developing and supporting sustainable solutions to achieve commercial, environmental and ethical goals.
In our design studio for example we try to ensure all our paper is reused. Then finally when there is no room to scribble anymore ideas on it, we recycle it. As a result of this, we have reduced the amount of paper we purchase and use. Most of our document proofs are handled digitally via PDF files eliminating the use of paper and reducing postage. We have also implemented a digital invoicing system, which by sending invoices via email has further reduced the paper we use and the post we send.
We utilise technology as much as possible such as email and video conferencing to reduce our journeys and therefore reduce our business carbon emissions from vehicles.
We try to encourage and promote good environmental and social initiatives with all our clients. We offer on request optional printing quotes using only paper from sustainable or recycled sources, giving our clients the option to follow our environmentally responsible lead.
More and more printers are becoming ISO 14001 compliant than ever before; this being a high standard of environmental regulation that limits pollution and pushes for improved recycling rates. Additionally, recycled or FSC certified paper is more readily available at more reasonable prices than ever before. All this helps us to lessen the environmental impact of the print work we undertake.
Corporate Social Responsibility covers a huge spectrum of issues in businesses. We haven't tackled all of them yet, but we are moving in the right direction. We understand that whatever we do, however small, can help make a difference.
Skip navigation Home page Sitemap Contact us Top of the page Accessibility statement About us Design process Portfolio