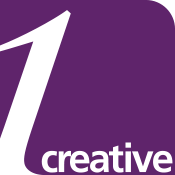 terms & conditions
1. OUR CONTRACT
These Terms and Conditions govern the supply of goods/services sold by 1 Creative (Solutions) Limited, 11 Prospect Road, Ossett, West Yorkshire, WF5 8AE, United Kingdom ("we" and "us") to the client/company named on our quotation ("you"). Together with your verbal/written agreement to our quotation, these terms & conditions constitute the entire and only agreement between us in relation thereto. Our acceptance of your order by commencement of any design/artwork/programming/printing of goods/services constitutes a legally binding contract between us on these terms and conditions.
2. JOB SPECIFICATION
2.1 After initial meetings and discussions our written quotation/proposal transmitted via email will constitute the contractual specification of the work to be undertaken by us for you.
2.2 It is your responsibility to read and fully understand this specification as any amendments required by you after you have given us written/verbal instruction to begin such work may be subject to extra costs and/or development time required to deliver the goods/services.
3. COPYRIGHT OF IMAGES/PHOTOGRAPHY
3.1 Where images and/or photographs are supplied by you it is your responsibility to ensure they are free from copyright restrictions or that you own the original copyright.
3.2 If you have supplied us images or photographs from any stock image library or other source it is your responsibility to ensure all royalty fees relating to the specific ways we are using the images and/or distribution rights have been paid in advance.
3.3 We will not be held responsible for any unpaid royalty fees relating to any photographs or images which you have supplied to us by any means including but not limited to email/CD/DVD or other electronic storage/transmission devices.
3.4 Where we have produced a website with a CMS (content management system) which allows you to upload your own images we will not be held responsible for any unpaid royalty fees or copyright issues regarding images added to your website by this method.
4. PROOFING
4.1 We will supply digital PDF proofs transmitted to you via email of all print jobs prior to print production.
4.2 It is your responsibility to check these proofs carefully and advise us of any changes as we cannot be held responsible for any errors or omissions pointed out after you have approved the job for print via an acceptance order/email/verbally.
4.3 Where digital PDF proofs have been supplied electronically via email we cannot be held responsible for any inaccuracy of colour. If accurate colour reproduction is required you need to request a physical printed proof (at extra cost) prior to approving the job.
5. FTP ACCESS TO WEB HOSTING SERVICES
5.1 If requested we will supply you with your FTP username and password to access your website files directly. Related fees may be applicable.
5.2 After this access has been granted we will not be held responsible for any of the content, features, functions or services working correctly as per our initial specification.
5.3 Costs may be incurred to correct such content, features, functions or services if we are requested to do so after we have released your details as per 5.1 of these terms & conditions.
6. PRICE & PAYMENT
6.1 The price payable for the goods/services you order will be set out on our written quotation to you. (excluding any reasonable delivery charges)
6.2 We must receive payment for the whole of the price of the goods/services you order, and any applicable charges for delivery within 30 days of your receipt of our invoice.
6.3 Failure to make payment within 30 days of your receipt of our invoice may result in interest/administration charges being applied to your account and/or temporary/permanent suspension of any services we provide such as website hosting or email.
6.4 Any data captured via but not restricted to forms/email systems/ecommerce systems on your website entered by any related or unrelated third parties remains the property of 1 Creative to do with as we see fit until all payments have been made in full.

7. TITLE
7.1 Any goods/services supplied by us remain the property of 1 Creative until any outstanding invoices relating to these goods/services have been paid in full. This includes but is not restricted to copyright of artwork/images/photography, html, css, javascript, web hosting services, email services and domain names.
7.2 CMS (content management system) software, database's, scripts and other unspecified programming code is licensed to be used on 1 Creative web servers only. This code is never sold to you, wholly or partly. The license to use the above mentioned code forms part of your annual hosting charges.
7.3 For the elimination of doubt, if you request us to send you a packaged version of your website files for the purpose of moving to another hosting provider this will include html, css and data files but will exclude any uncomplied source code, CMS systems, scripts and other unspecified programming code.
8. VAT
All prices quoted are excluding VAT at the current UK rate.
9. INTERUPTION OF SERVICES
9.1 We will not be held responsible for any loss of revenue you may incur due to loss of services we supply to you such as website hosting or email.
9.2 Where any interruptions to services are incurred (due to but without limitation, power cuts, computer viruses, malicious hacks or attacks on our servers, fire, terrorist attack, natural disaster) we will endeavor to restore these services as soon as possible without any cost being incurred by you.
10. FORCE MAJEURE
We shall have no liability to you for any failure or delay in supply or delivery or for any damage or defect to goods/services supplied or delivered hereunder that is caused by any event or circumstance beyond our reasonable control (including without limitation, strikes, lockouts and other industrial disputes).
11. GENERAL
If any part of these conditions is invalid, illegal or unenforceable (including any provision in which we exclude our liability to you) the validity, legality or enforceability of any other part of these conditions will not be affected. This contract shall be governed by and interpreted in accordance with English law.
Skip navigation Home page Sitemap Contact us Top of the page Accessibility statement About us Design process Portfolio